Department's location
Details

Last Updated on Wednesday, 07 August 2019 12:13
The Department of Computer Science and Technology is located at the end of Karaiskaki Street, near the grove of St. George and 2 kilometers from the center of Tripoli. Regular urban routes connect the Department to the Tripoli's center (Ag. Vassileios Square) and to the bus terminal:
by city bus, every 30 minutes
by taxi, with cost around 5€
Tripoli is easily accessible by bus with a regular service from Athens and many other parts of Greece. For more information on the bus routes visit KTEL Arkadias.
If you plan to come by car you may consult the following map of Tripoli (or visit Google Maps), where there are directions from the entrance of the city (from Athens) to the Department of Informatics and Telecommunications.
There are several signs in white color from all entrances of the city labeled 'University of Peloponnese' which will also lead you to the Department.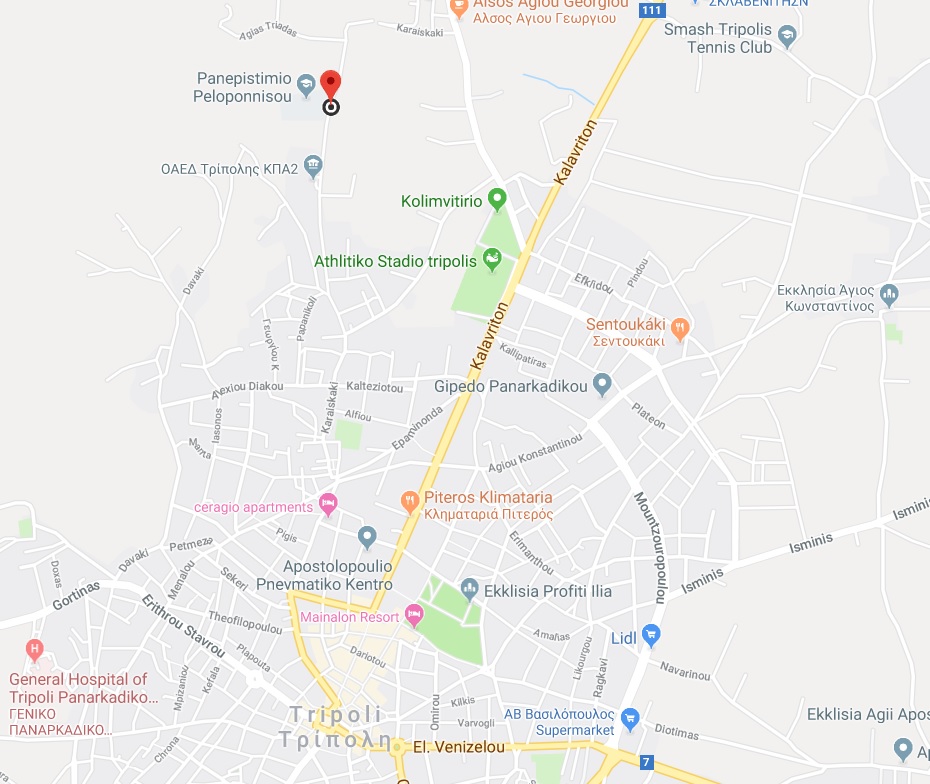 Distances (Indicative):
From Athens: 160 Km, duration 2 hours
From Patras: 160 Km, duration 2 hours
From Argos, Corinthos, Nafplio, Megalopoli, Sparti: duration 30-60 min
From Kalamata: 90 Km, duration 1 hour and 15 min
From Ioannina: 420 Km, duration 5.5 hours
From Thessaloniki: 650 Km, duration 6.5 hours